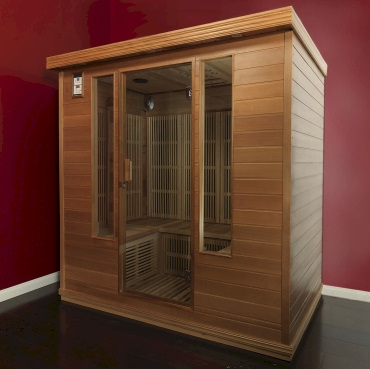 Hollywood Sauna shown above in optional Red Cedar.
Click image above and thumbnails below for alternate views.
The 2022 Hollywood Sauna
The Hollywood Far Infrared Sauna is our largest and most powerful model, boasting 2600 watts of power and 144 cubic feet of space to give up to five persons a relaxing, therapeutic sauna session to remember.
Included features like colored lights for chromotherapy and an AM / FM / CD player stimulate all the senses, and availible options like rich Red Cedar and a DVD / LCD system make luxury an understatement.

BRAND NEW 2024 JUST RELEASED!!!
Click here for a E-brochure and updated pictures

- Full-Spectrum Heaters
- Bluetooth Stereo
- Chromotherapy (Light Therapy)
- Ozone/Ionizer Sanitizers
- ULTRA-Low EMF Carbonwave Organic Heaters
- Infrared flow-thru Benches
- Removable benches for Yoga or stretching
- Faster heat up times to 158F
- Infra-tile floors for easy cleaning
- Thicker wood and doors throughout

MALIBU
$4595 (reg. $5,195)

DELMAR
$4995 (reg. $5,595)

NEWPORT
$6,495 (Out of Stock/Call)

HOLLYWOOD
$7495(Out of Stock/Call)

SAUNAJUMP
$5695 (reg. $6495)
Sauna Specs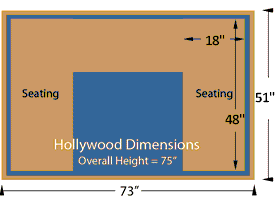 Infrared Panels:
15
Panel Area:
6200 square inches
Dimensions
Width: 73
Depth: 50
Height: 75
Electrical
Wattage: 2850 Watts
Amperage: 12 Amps
Circuit: Dedicated 220 volt / 240 volt 20 amp circuit / outlet required

Please see Installation Manual for detailed Electrical Specifications